Read the latest Justice Rising and take action
Time to cut military spending and move the money from the Pentagon to our communities
Check your mailbox!
Our Summer 2022 issue of Justice Rising: Grassroots Solutions to Corporate Power, is out! This issue focuses on militarism in its many forms and the damage a culture rooted in violence and imperialism does to peace, people, and planet.

You'll read about the ongoing development of sky-high-priced weapons systems, the effects of militarized policing, and the work that groups across the world are doing to break down the barriers to peace, building neighbor-to-neighbor connections across borders and imagining national security rooted in interdependence instead of fear.

Read it and take action now!
Make a call to cut military spending and Move the Money from the Pentagon to our communities
The House of Representatives will be considering a bill to authorize a nearly $850 billion dollar—that's billion with a "B"—Pentagon budget.
But our champions in Congress are working to cut this funding and reclaim taxpayer dollars for true human needs. U.S. Representatives Lee (D-CA) and Pocan (D-WI) intend to pass two amendments to the National Defense Authorization Act (NDAA):
An amendment that would reverse the $37.5 billion increase to the budget that, just last month, the House Armed Services Committee voted to add on top of the President's $850 billion request to Congress for the military.

A second amendment to push a $100 billion cut to overall Pentagon spending.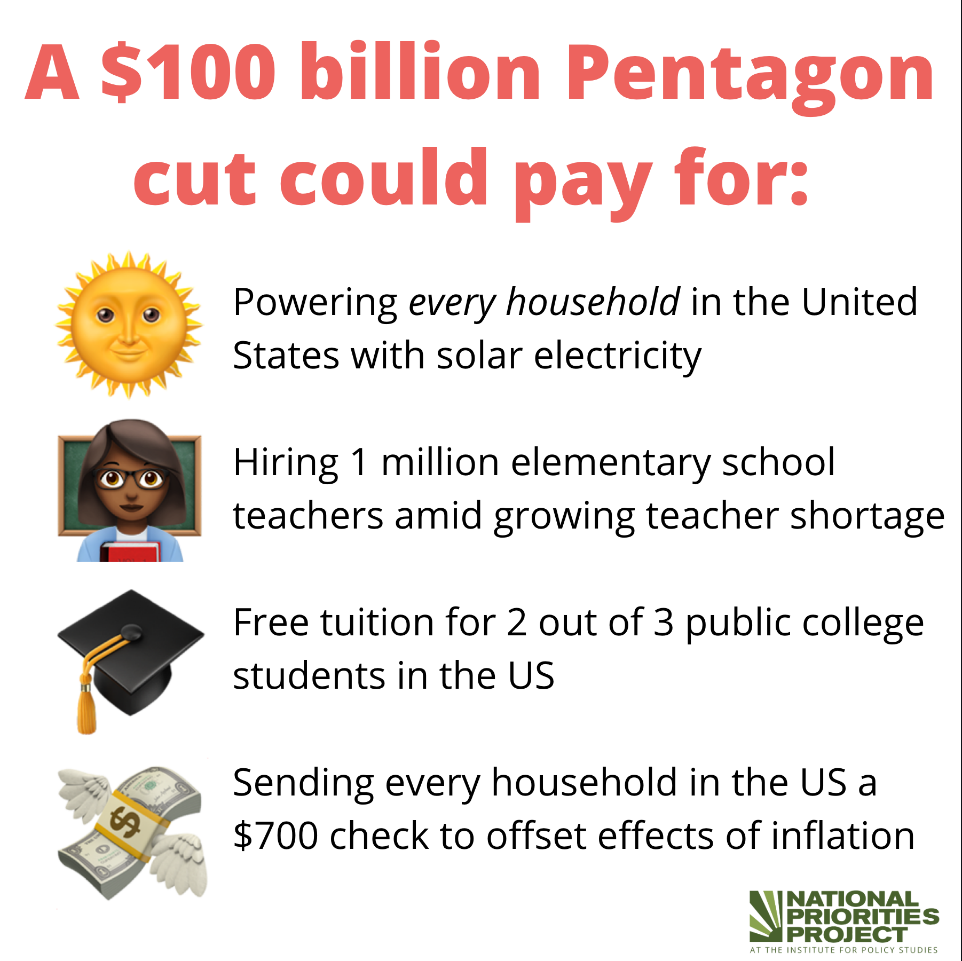 A $850 billion military budget is well over three-quarters of a trillion dollars. At these levels, the Department of Defense will receive more money than the Departments of State, Justice, Education, Transportation, Health and Human Services, and the Environmental Protection Agency combined.

So Please Take Action – your voice can make a difference. Give your friends and family this information and ask each one to make a call.

Congress will vote on these amendments this week, so contact your Representative today.

Find your Representative's contact information here or call the U.S. Capitol Switchboard at 202-224-3121.
Say that you are calling to urge your Representative to vote "yes" on both of Rep. Lee and Rep. Pocan's amendments to reject the $37.5 billion committee increase to the Pentagon budget and to cut overall Pentagon spending by $100 billion.
Rep. Lee has also introduced HR8040, the "People over Pentagon Act," which reduces military spending by $100 billion. and $100 billion is a modest cut when it comes to the Pentagon. We could cut much more without compromising national security. And we and our communities would be healthier for it. So please make your call today!
In Alliance,
Nancy Price and David Delk, Co-chairs